Hi everyone! I'm Tara and I write a little blog called Suburble.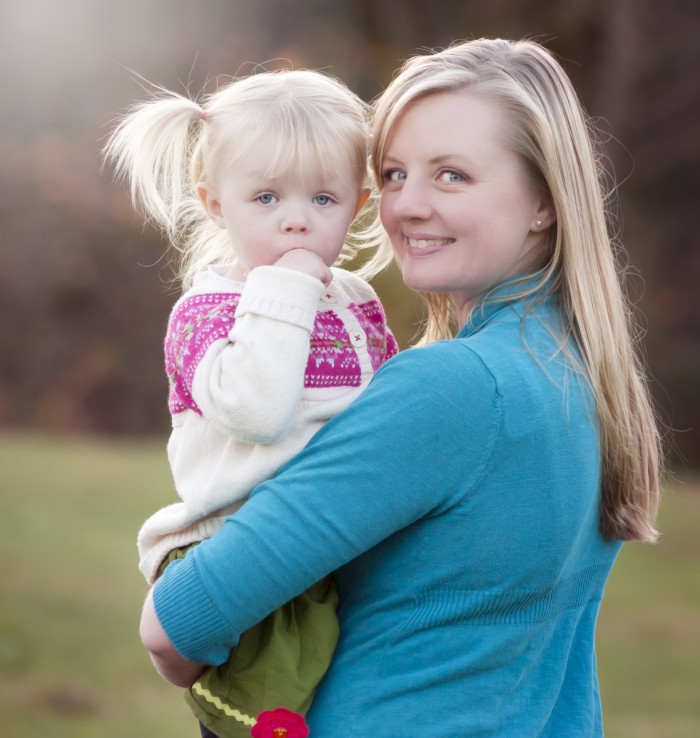 I am very happy to be guest-posting here today at the The Taylor House. Chrissy is such a sweetheart, and I look forward to getting to know you guys, as I plan to make a few appearances here over the next little while. *cue ominous music*
Well, I hope you like me. I already like you. I'm a bit of a Pollyanna like that.
For a lot of kids, school is out. And this means that there is ample time to run and play and to – inevitably – harass their mother. Face lifted toward the sky, this harried mother cries out, "I wish there was a magical activity that would keep my children busy and also be educational and stimulating… and also… relatively inexpensive…"
(That seems like a fairly common plea, don't you think?)
Well, our house has discovered one of these mythical activities. It is called a "sensory box". A sensory box is a contained area that allows for imagination and exploration, as well as a sensory experience (such as the feeling of sand between the fingers). It is often a quiet activity, whether you state that "rule" to your kidlets or not. Kids get lost in their imaginations, and in the feeling of the sand (grains of rice, water, etc) between their fingers.
And they're cheap! Rejoice! Mama's even happier!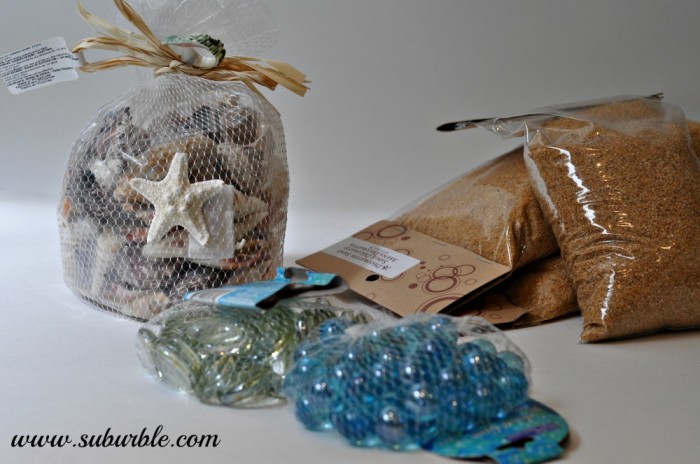 To make our sensory box, I gathered some materials from both the dollar store and craft store. I purchased decorative sand at Michael's (can be found cheaper online). Decorative sand is a must (unless you're doing rice or lentils), because it doesn't dust up like play sand does.
We already had this tote hanging around the house. I chose a tote because it has a lid. This way, the sensory box can be easily packed up and put away – no heaps of sand and mama's tears all over the new living room rug, thankyouverymuch!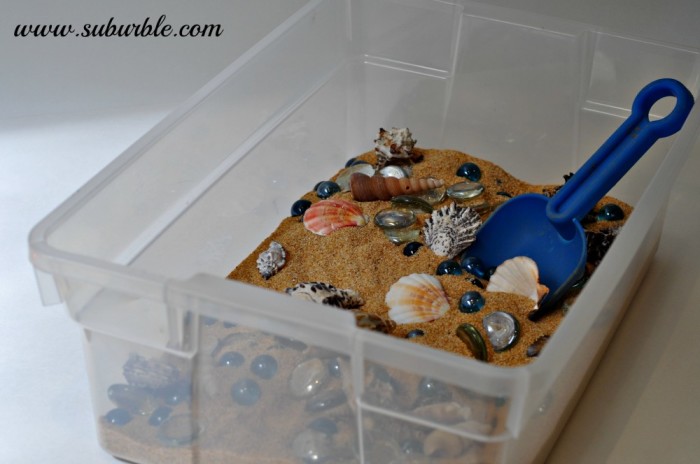 The assembly directions for a sensory box are as follows: dump your sand, your glass marbles, and your shells into a box. Stir. Enjoy!
(Easy-peasy, no?)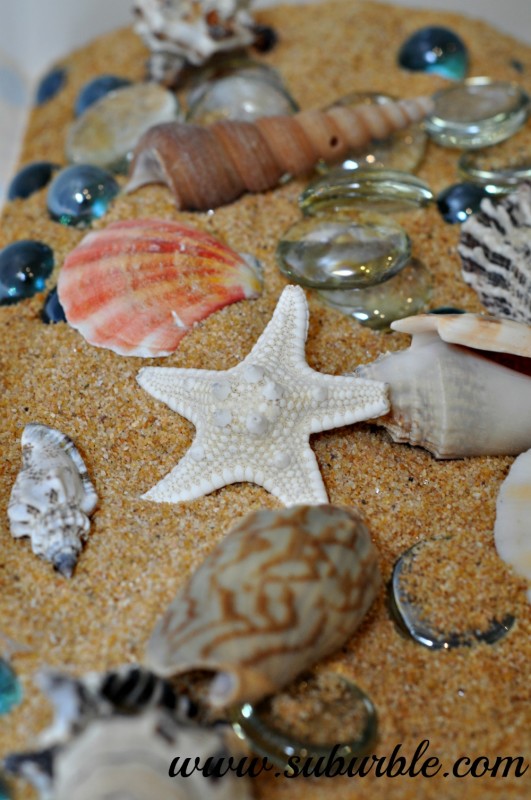 Lila was especially taken by the starfish. It was a huge hit in her Under the Sea adventures.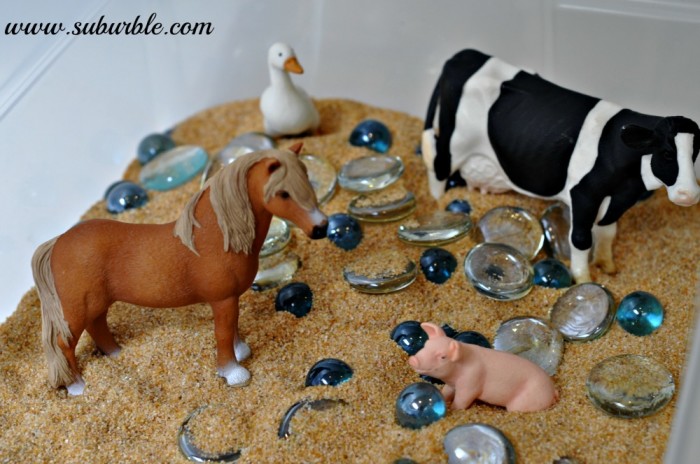 But sensory boxes don't have to be limited to seashells and sand. We invited some farm animals to join in on the fun. This was where Lucy really got into the action. She adores the little pig.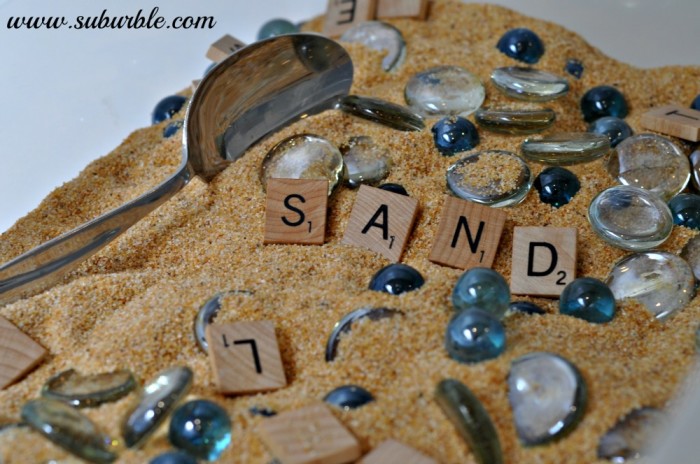 If you've got a preschool or school-aged child, try taking out the shells and/or farm animals, and instead add some Scrabble tiles. Have a letter scavenger hunt, or perhaps even try to make a word from what you've "fished out" (similar to Boggle). It's a great way to practice letter recognition and reading in a fun (and kinesthetic way).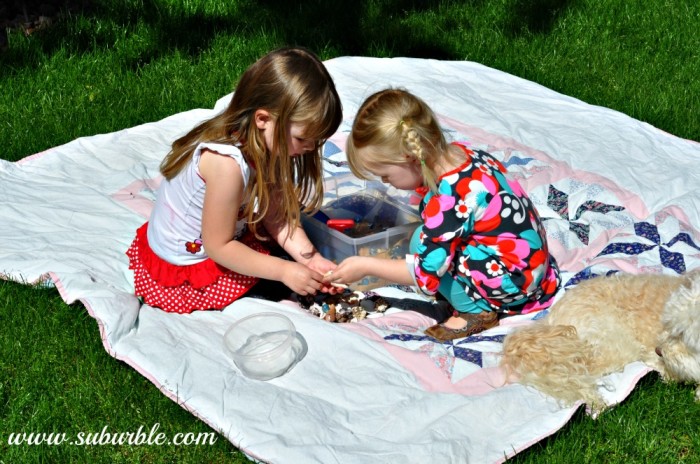 I presented the box to the girls without any of the bits-and-bobs in the box. Instead, I placed them in containers around the box and let them decide what they were going to do. It resulted in over an hour of quiet play. An HOUR. If you read my blog, you know that this is about as likely as a unicorn trotting into my kitchen asking if he could make dinner for me. I would take either, honestly. In fact, I'd take the quiet play first!
Try out this sensory box, and see what kind of adventures your little ones can cook up!
Please join me, my family, and my sarcasm at my blog, Suburble.
Some posts you may like are: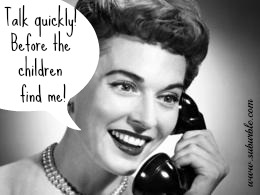 Why you probably can't have a phone conversation with me.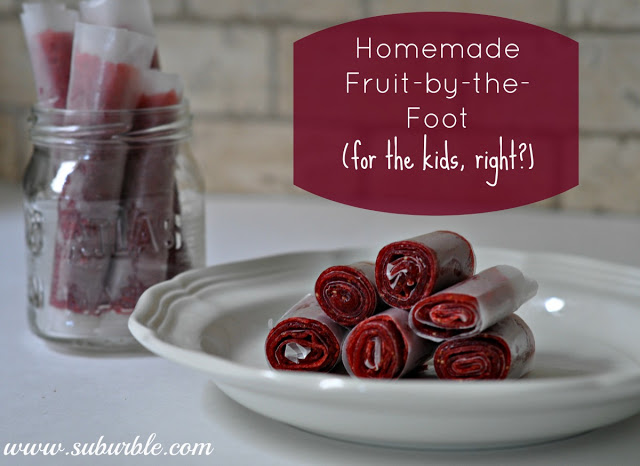 Homemade Fruit-by-the-Foot (without preservatives – it's pretty awesome).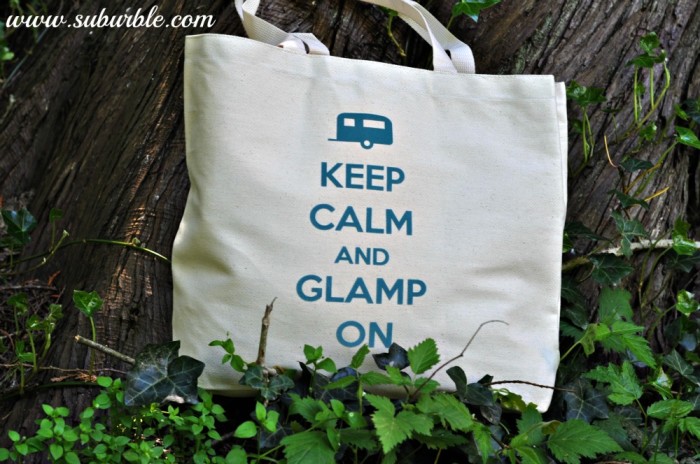 We're Camping! (And that brings its own hilarity!)
Hope to see you there!