Hi gang! It's Tara from Suburble – I'm back this month to share some crafty goodness with you!
If you ever wander through my little space on the interweb, you'll know that I love crafting with paint. And my new favourite thing to paint is silhouettes. I love silhouettes of objects, animals, and people. It's a way to add interest to a piece that may not have been living up to its potential. The full tutorials for all of these projects can be found on my blog. Click on the image or the link to see exactly how these pieces came to be!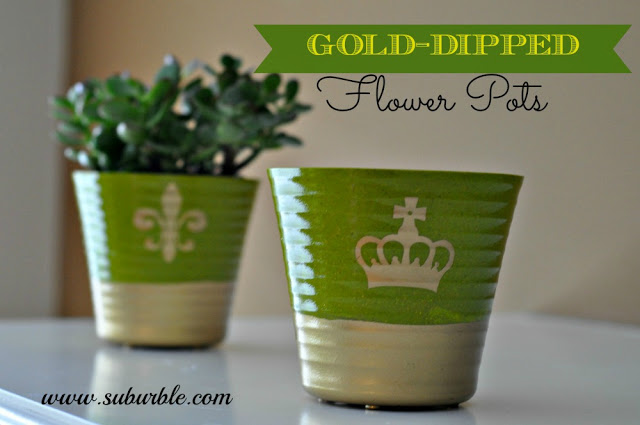 Following the gold-dipped trend that is sweeping style blogs everywhere, I created these gold-dipped flower pots using stencils, painter's tape, and Rustoleum gold spray paint. You'd be amazed at how quickly and easily this craft can be done. Pot it with a little succulent or tropical plant, and suddenly, you have a wonderful focal point on your side table (or even better – a great hostess gift to present to one of the many Winter gatherings coming up).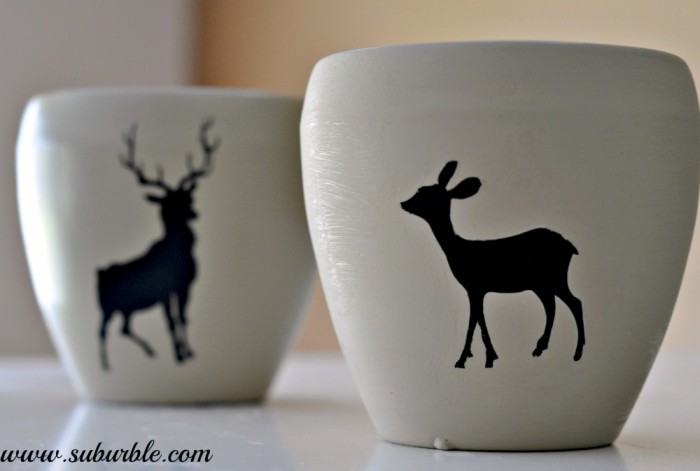 And because I was so tickled with what I had created, I decided to be a bit less glitzy and go for a more subtle look. These buck and doe flower pots are spray painted in Rustoleum Fossil, but are then decorated with the silhouette of a buck and doe using black acrylic paint. A finishing coat of Mod Podge seals this look and creates a piece that is not only on-trend, but it also an inexpensive way to add style to your decor!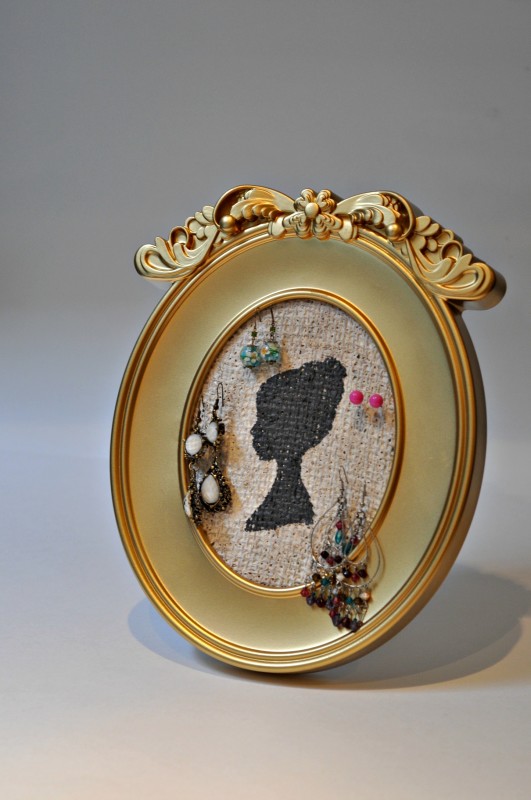 Another piece that was greatly improved by the use of a silhouette was my burlap and gold Jewellery Organizer. This piece involved the spray painting of an Ikea frame (recognize it? Underneath that shimmering gold is white plastic!) and the use of burlap as a medium to hang jewellery. I used a stencil of a vintage woman in the center of the piece to create the appearance of a cameo. This organizer does double-duty: not only does it organize my earrings, it also acts as an art piece in my bedroom!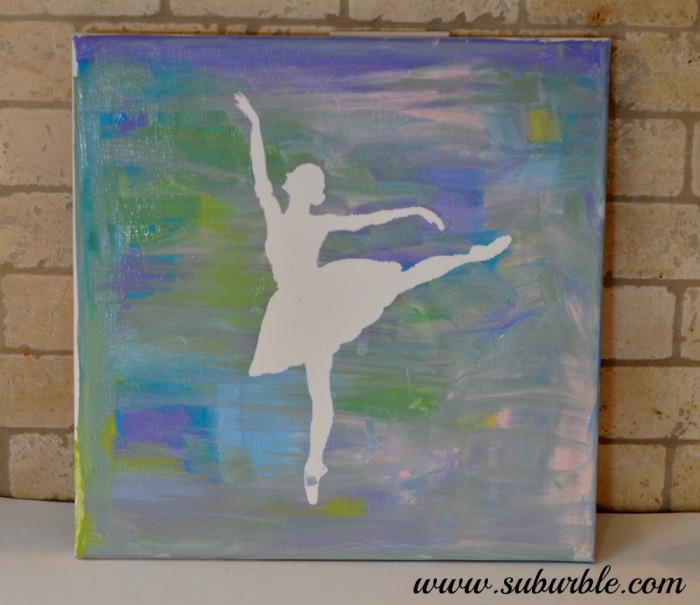 A silhouette can also be created out of negative space, rather than colour. My daughter, Lila, was the artist behind this ballerina silhouette art piece. Using the cutout of a ballerina (I cut it from adhesive vinyl, but a stencil would work as well) – Lila painted the entire canvas with her choice of colours. Once it was no longer tacky, the ballerina was peeled up and a gorgeous work of art was created.
There are so many blank spaces that are crying out for a bit of love. Consider adding a silhouette to a mug, a piece of mirror, or a canvas. You'll be amazed at how quickly and easily your piece will be transformed into art!
Visit me at Suburble and see what we're up to!
Blog– Facebook – Pinterest – Twitter – Instagram