Hi, all! It's Tara from Suburble again and I'm so excited to share a Summertime craft that is perfect for kids!
We are a family who camps, and the kids love being outside at nighttime (trying to stay scarce, so the grown-ups don't notice how way-past-bedtime it is). I thought that a great craft for our girls would be to create mason jar lanterns.
Mason jars are readily available in our house – I started canning last year, and my cupboard is piled full of jars. I grabbed three of them, my box of acrylic paints, some paintbrushes, and we all headed outside.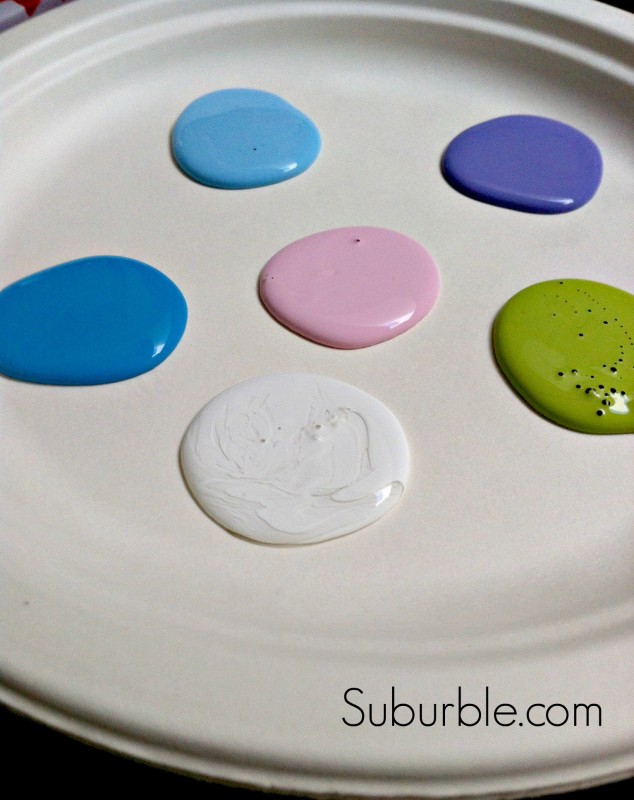 Being the hyper-control-freak that I am, I poured out the exact same palette for each painter. This way, the lanterns would all match, regardless of the painting choices.
(You'll notice that the paint is on a paper plate  – this makes for very easy clean-up, especially when crafting with the preschooler set)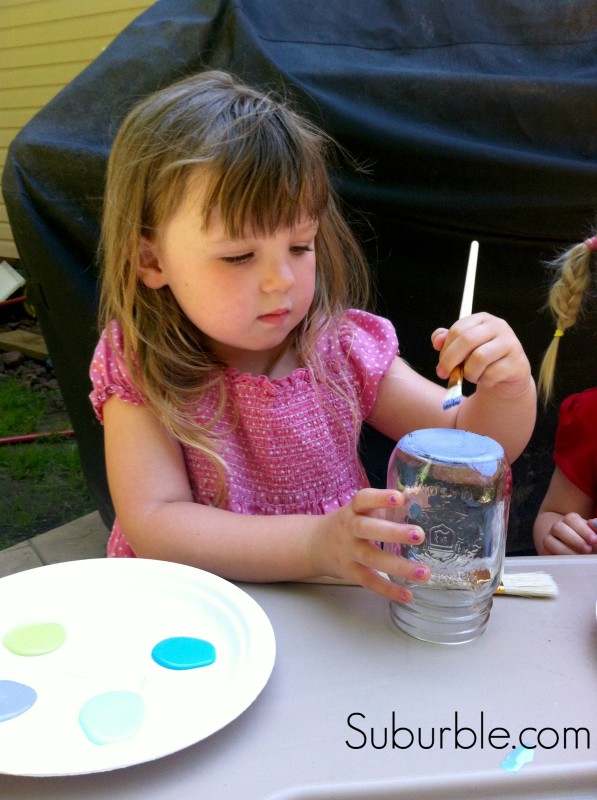 The kids both set to work on painting their jars.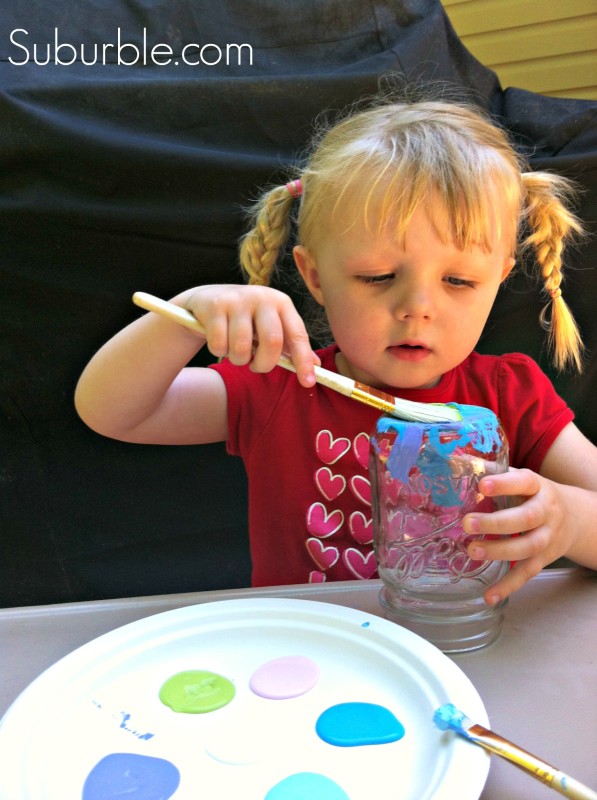 We turned them upside down and painted on the outside of the jars. The girls loved mixing colors and creating their own design. The acrylic covered the glass easily.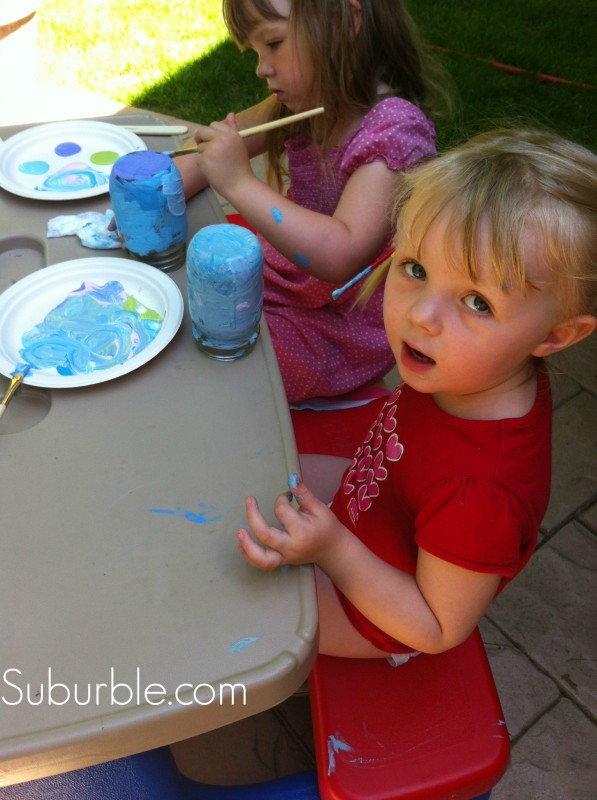 As well as the picnic table, and the children. Here is Lucy exclaiming, "I didn't do it!"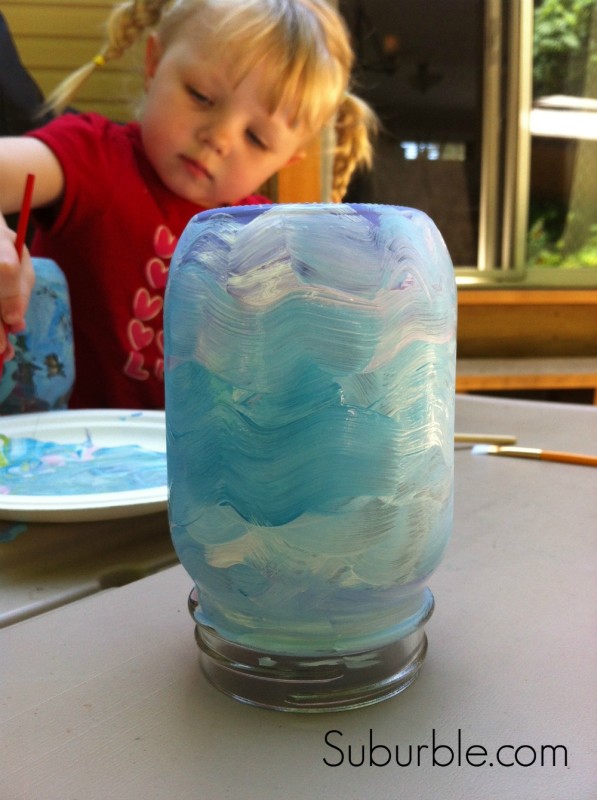 The entire mason jar should be covered in paint and then left to dry completely. The children will ask incessantly, "Is it dry yet? How about now?"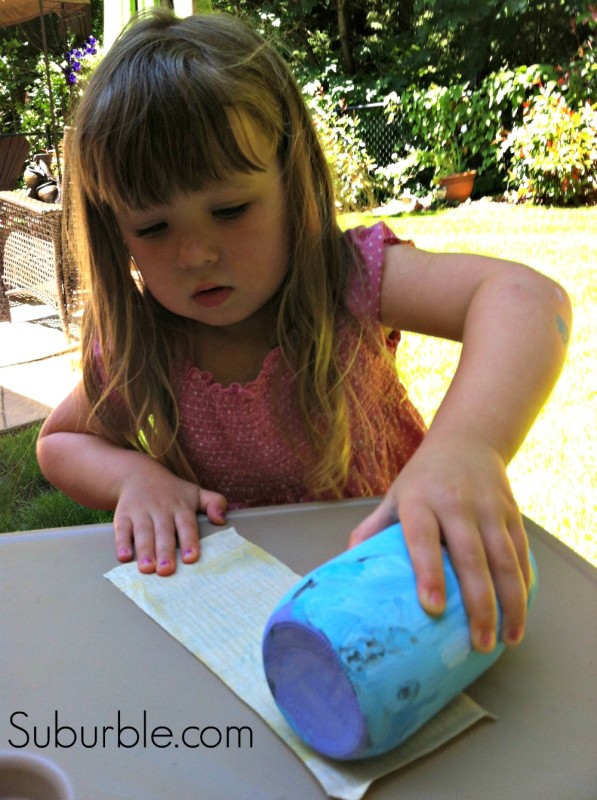 Once the paint is dry, take sandpaper and rough up the paint. This is so that there are peek-a-boo spaces in the paint in order to let the light shine through. (Can you read that and not get the song stuck in your head? "Let…. your light shine through…"). Lila came up with an awesome sanding technique: she dragged the jar across her paper. Much easier!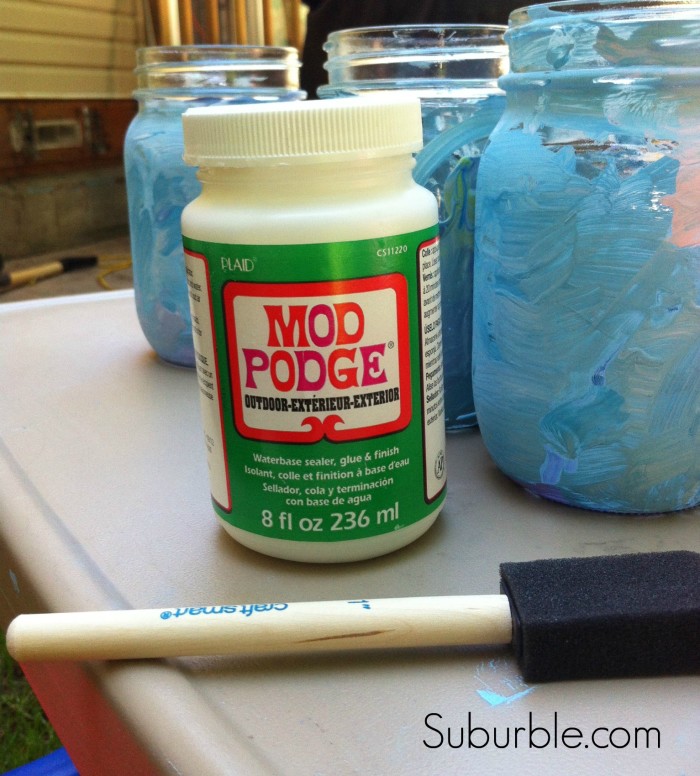 After we had distressed our jars, I coated each one in Mod Podge Outdoor. This stuff is rad-tastic. That's all I have to say about that. (Also, let it dry – it stays tacky for a bit longer than regular Mod Podge)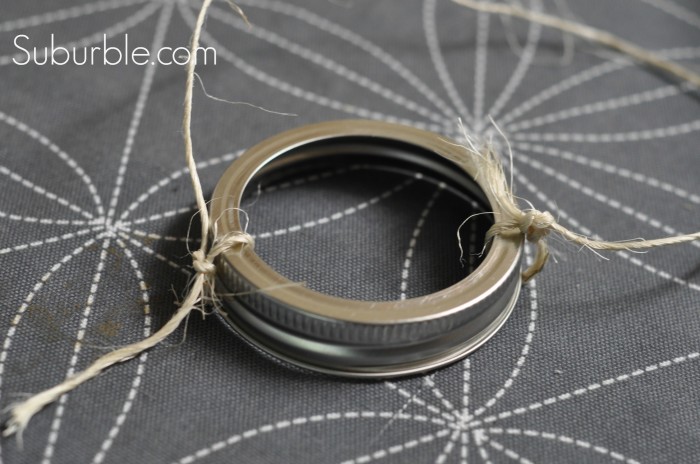 While the Mod Podge is drying – and while the children are dancing around their still-tacky jars exclaiming, "Can we light it YET?" – tie a piece of twine around the rim of a snap lid. Trim the edges, and continue watching the children blow on their drying mason jar lanterns.
When you twist the rim onto the jar, hold onto the two pieces of twine, and it should twist on and secure easily. Otherwise, the twine will slip as you twist it and create an uneven handle.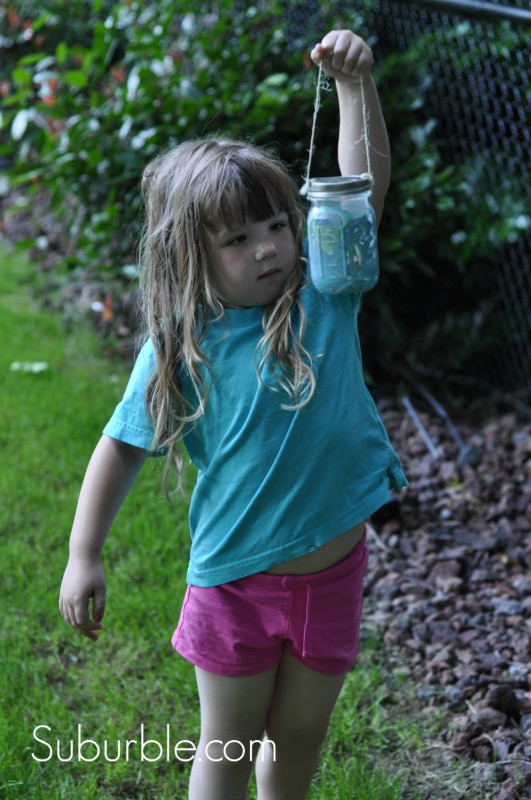 When the lantern is dry and given its "rustic-chic" handle, add a light. If little beaners are going to be carrying these lanterns, use a battery-operated tea-light as the light. I do love the look of flickering candlelight, but I much prefer my children to be scorch-mark free. 
Lila waited until just before her bedtime to test out her lantern. Because summer has the longest days, this picture doesn't really show the full potential of these lanterns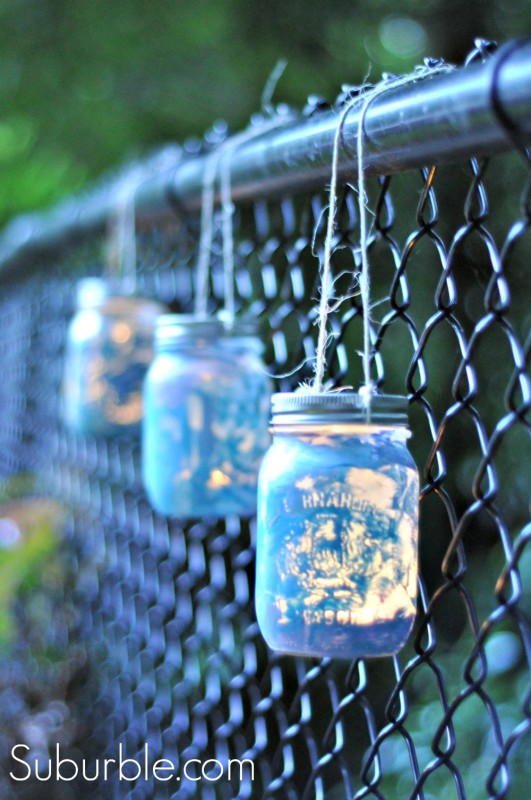 After she had gone to bed, and the sun was slipping beneath the horizon, I snapped these photos. 
These lanterns can be hung on fences, on walls, from gazebos….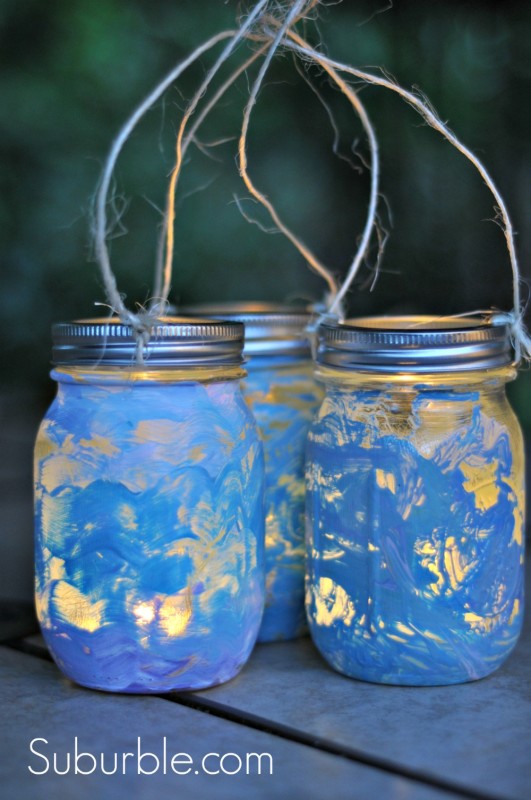 Or even gathered as a centerpiece. 
And the children will be so proud: they created these lanterns! This is their art! What a great project for camping, a cook-out, or a sleep-over! Adding stickers, stencils or glitter would further glamourize these simple, yet beautiful, luminaries.