I know we are about half way through May, but I wanted to share with you some amazing ladies and blogs! 
I would love for you to take a minute and visit them! 
HERE COMES THE SUN
Hello!  I'm Kelly and I blog over at Here Comes the Sun. I've got a bit of everything on the blog from kid's crafts to sewing to home decor.  I love to find new uses for old things and love to decorate on the cheap (but with a designer look)!  I also host a weekly link party called Fabulous Friday.




I am a stay-at-home mom of 2 kids.  My daughter is 5 and my son is 2 and they keep me VERY busy.  To keep my sanity, I craft and blog during nap time (when I really should be cleaning the house) and late into the night.  My daughter's favorite question is "Do you have a craft for us to do today?"  I say "Why yes, of course." And then I get on Pinterest and frantically search for something that I know we have all the supplies on hand for.  In my "spare" time, I am getting back into running.  I used to do it a lot until an injury sidelined me for a while.
Here are some of my favorite projects on the blog.
BEAR RABBIT BEAR
Hi! I'm Melanie, and I blog over at
bear rabbit bear
. I'm so excited to be swapping with Chrissy this month! I began an
ad swap and advertising campaign
a month or so ago, and my favorite part has been meeting bloggers and getting to know so many great ladies better! So…what do you need to know about me? I adore crafting, sewing, and baking cupcakes (because regular cakes are too hard to decorate). I was Home Ec. state champ in high school. My hubs is a youth minister, so we have 30+ teenagers, most of whom want to come home with us on a weekly basis. Oh- and I make my two year old pose for some sort of blog related picture every day.
So that's me! Now- I want to hear about YOU! Stop by and follow along via
GFC, BlogLovin, or Hello Cotton
. I'd love for you to connect with me on
Facebook
– where there may or may not be a photo of a BOON potty- and reach out on
Twitter
!
DEBBIE DOES CREATIONS
You can follow Debbie on Twitter or Facebook!

FROM CITY CORPORATE
TO SUBURB MAMA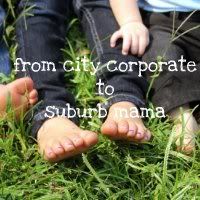 Hi! My name is Kristina. I'm wife to a wonderful and supportive husband and Miami to 3 wonderful little kiddos, 6, 3 and 1. I left the NYC Corporate world when our youngest was born, to become a stay-at-home mom and my life has never been more full of adventure! My life-long desire to is to draw closer to the heart of my Heavenly Father and be the wife and mother he has destined me to be.
Info about Scottneal Designs:
I am a Marine Corp wife with a passion for design. I love DIY and decorating. My blog showcases my DIY skills and my redesigns. I also have a section for pet lovers because I am indeed a true lover of pets. I have an Interior design business specializing in small business design but I also do residential. My business is based in Jacksonville, NC. I am new to blogging but I love it. I love painting. I love to cook and I have very great design friends. On the side of my blog I run a March of Dimes team. My great and beautiful friend Liz Marie over at the Liz Marie Blog is my inspiration and has got me motivated on my blog. So now I am a true Blogger at heart and DIY'er.
If you are interested in being a Sponsor for June, send me an email at cmaetaylor at yahoo dot com.  Thank you!