I am so excited to share a new sponsor with you for June!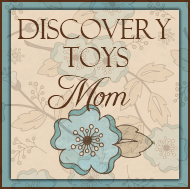 Here is a little information about Ashley:
My name is Ashley and I am married to an amazing guy named Andrew. We have a cute little rambunctious 1 year old little boy named Axton. He is our pride and joy. He is always making us smile. We have two dogs and two cats that drive me crazy but I love them anyway. I am a Mommy Blogger and I love to blog about my Family, Disney, Recipes, Couponing, and Discovery Toys. I am a Discovery Toys Educational Consultant and I couldn't image doing anything else. I love to help children learn through play. I knew right away that I wanted to join Discovery Toys when I learned that all of the toys, games, and books were educational. Discovery Toys is an amazing company and I couldn't image being apart of any other company.
Ashley has a really cool blog with great posts! 
Here are a couple of my favorites:
Tips for Traveling With Kids
Butterfinger Bars
Ashley has also kindly offered a fun new giveaway opportunity for The Taylor House readers! 
You can sign up for your chance to win below.
Mosaic Mysteries
This set of tiles appeals to your child's creative and mathematical nature. Set offers plenty of shapes, textures and colors to recreate 50 stunning patterns suggested in the accompanying manual, or to create original designs from among thousands of possibilities. Tray and 100 pattern tiles in 4 colors.


Plus, a fun Playdough recipe and a 10% off coupon to use at her Discovery Toys site! 
You can connect with Ashley over at her Blog or on Facebook!  I hope that you will take a minute to stop and see all the amazing things she has to share! 
Thank you so much, Ashley!