I am so excited to share this giveaway with you! 
The first giveaway that I ever won was from Lynn over at Oakhill Designs and after that I was in LOVE with her jewelry!  I have ordered so many of her necklaces for myself and gifts.  The necklaces are such good quality and I love that I can personalize them with my kids names.  They make such thoughtful gifts too!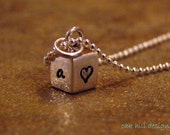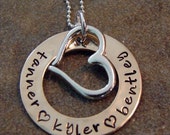 Here is a little information about Lynn and her shop
hi! I'm lynn, oak hill designs creator!

I quit my day job in may of 2011 to become devoted full time to my pride and joy, ohd. I am wife to a wonderful husband, mom to two (most of the time) great teenagers, and one spunky cockapoo, tate.

oak hill designs is your place for hand stamped necklaces and bracelets. and I am now pleased to announce my vintage modern pieces including rings and necklaces-ready to ship!
This week Lynn has been so generous to provide one of her first and best pieces for a giveaway here at
The Taylor House! 
Here is the necklace that is up for grabs and you can personalize it with the names that you would like!
Guess what else?! 
If you want to order and be sure that you get a fabulous piece from Oakhill Designs, Lynn has also offered a
15% off code for The Taylor House readers! Just use the promo code "TAYLOR" when you order! This code is valid this week only so take advantage of it right away!