Hi everyone! I'm Victoria from
Simply Anchored
and I am very excited to be talking about two of my favorite things: babies and traveling! I hope you enjoy my insight and will hop on over to my blog to check it out or follow me on
Twitter
|
Facebook
|
GFC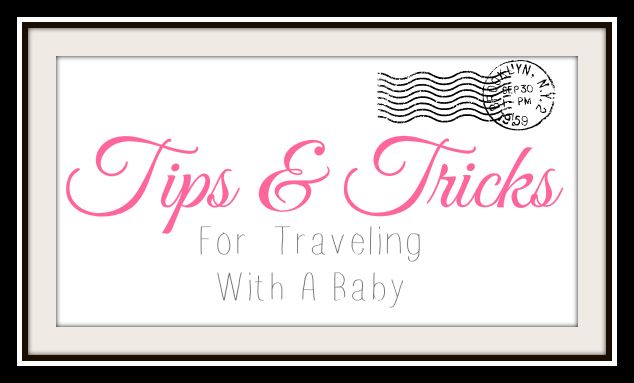 Traveling this time of year is hard enough, but when you throw babies into the mix it can be a disaster! Being a new mother, I have had to learn a lot from my own mistakes and now I want to share what I have learned!
Know How To Pack Efficiently
This is something I have learned over the years. I have traveled all over Europe, the Caribbean, and the States and each time I perfected my packing skills. When you only bring a carry-on in the dead of winter (think jackets, boots, sweaters, ect) for a 10-12 day trip, you have to know packing basics!
Place everything you are packing in one spot
This way you will know what you are taking and you will see how much room you have for what
Don't forget the jumper cables (in the background) you never know!
Rolling your clothes is the best way to utilize space! Roll everything that is rollable. And things that are not, utilize the space in areas such as shoes.
Leave Early
The last thing you want to do when you are traveling is leave before the sun rises right? Well that is the best time to do it (if driving). You will get a head start on all the other travelers that will be on the road.
Leaving between 2-4am is perfect when you have babies. Put them in the car after you have everything all ready to go so they will only be awake for a few moments. Once they are in their seat and the car is rolling, they will resume their nightly sleep. This will give you a few hours of uninterrupted milage before you have to stop, change, feed, or entertain.
Make Essential Items Accessible
How many times have you had to stop, find bottles, find formula, measure water, ect? Well that needs to stop! When you are traveling a long distance (by any means of transportation) having things at the ready is imperative. Before you go, measure out formula in the bottles, and measure out water in seperate bottles (if you don't want to lug a cooler around) and have it where you can easily grab it without unpacking all your hard work! So when it's time to eat, you're not wasting valuable road time trying to get everything together.
Plan Your Stops Wisely:
Stopping off at rest areas can chew up a lot of your travel time. It is very important, especially when you have a baby, to plan wisely when you will stop. Take a queue from your baby's schedule. Only stop when your child wakes up. And when you do stop make it a "full service" stop, meaning:
Gas up – even if you have half a tank still
Grab something to eat/ feed baby
Use the bathroom / change diaper
Stretch legs
By doing all this each time you stop, it will eliminate the need to stop for gas half an hour later or stopping for food once you baby has fallen back asleep.
Stretching His Legs At A New Jersey Rest Stop
Get An E-Z Pass!
I never had the need for one until this trip down the East coast. With the price of tolls going up, it's great to have because you get a discount. It is also a major time saver! I have waited in toll lines (especially in New Jersey and NY) for over an hour before. With so many states using them, they have actually created highway lanes for E-Z Pass users, where you don't have to even slow down!
So no more waiting in line, digging out cash, and winding up with buckets of change.
Invest In A Diaper Changing Kit
I am very happy that I already had one and bring it with me everywhere, but I never thought I would use it on our drive down because every fast food restaurant and rest area has a changing station, right? HA! Wrong.
We ran into this three times. My son had loaded his diaper each time and when we stopped at Burger King, Subway, and Dunkin' Donuts (three separate occasions) I was blown away that they had no place to change my poor stinky son! Tired and frustrated, I let out a few choice words then hauled him into the front seat, where I made a make-shift changing station on my lap. This consisted of a pillow on my lap then the diaper changing kit on top of that.
It worked out really well, but I would have rather had a bathroom to use.
Munchkin Diaper Kit
Changing my son in the front of my Jeep at Burger King at night…. *sigh*

Buy New Toys!
Want to keep your little one entertained? I know, for my boy, he gets bored of the same old toys. So we went out and bought 3 (under $8) toys, such as new rattles, small teether, and a book. We introduced them one at a time in the car. It kept him amused for hours! Then we just rotated the new toys with the old – worked like a charm!
Don't Forget To Have Fun!
Traveling with kids can be hard but it can also be fun. They are experiencing new things the entire time so take advantage of this! Take pictures, document the travels, and make sure you have a light heart when traveling. That way when you get back you don't focus on what went wrong, but instead how much fun it was!
Hope you enjoyed the ride!