Disclosure: This Post is sponsored by VTech CareLine™.
When I was first contacted about reviewing the VTech CareLine™ system, I was a less than impressed because I'm 34!  I had no idea how I would use this system or what I would do with it but then I thought of my Grandparents.
My Grandpa and Grandma are 94 years old and live on their own at home.  They are able to because they live near family and still get around pretty well but with failing eyesight and medical problems we still get nervous that something will happen.  The CareLine™ was perfect for them and I was excited to get them set up and see how it worked.
The VTech CareLine™ is perfect for everyday conversations, once we set up the system for my Grandma, she was able to easily call family without having someone help her dial the phone.  This will help her stay connected with everyone!
There is a lightweight safety pendant that she wears around her neck, so in an emergency she can get help right away.  You can program two numbers into the pendant and there is no monthly fee for this system.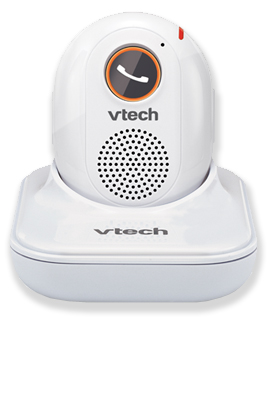 What's great about this, is that it will even work as far as her garden out back or mailbox.  That way if she has problems in the yard, she can still call for help.
There are Big buttons, large displays and speakerphones on all three devices to make the system easy to use.
The corded phone even has a place to add photos of the family and friends you are calling even if you forget the phone number.  Plus, there is a Voice Announce Caller Id, so you know who's calling even from the other room!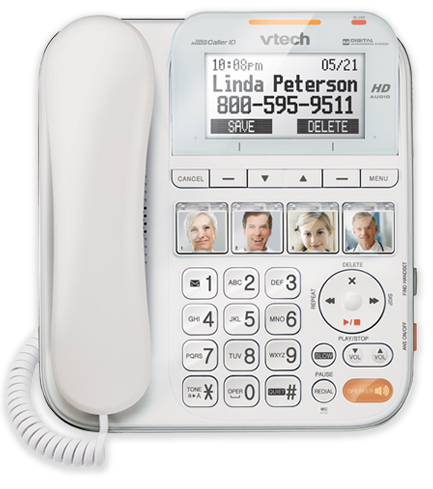 Information from the Website
Now there's a new way to stay in touch and stay independent at home. Introducing the VTech CareLine™ home telephone and personal communication system.

Ideal for everyday conversations and emergency situations, the CareLine™ system was co-developed with leading experts in aging and technology. There are no monthly monitoring fees, installation costs or contracts. In fact, there's nothing else like it.
We found this system to be very easy to use and perfect for our family that needs that extra little bit of help to continue living on their own.  If you are looking for a way to assist the seniors in your life, you can find it at Walmart or more information on the CareLine Website.